When does GAP Insurance automatically end?
GAP Insurance can have a number of situations that can see the cover come to an end. Here we explain some of the more common ones, how they work, and what it means for you.
The natural expiry date of the GAP Insurance cover
Like most insurance products, they will come to an end when the expiry date of the policy ends.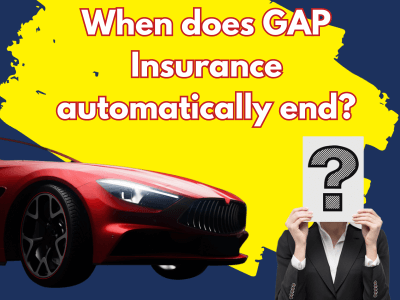 Unlike most other types of insurance, GAP Insurance is taken over a period of a number of years normally. At GAPInsurance123, we can offer cover periods of between one and five years.
It is important to check when the expiry date of your GAP Insurance is. Remember also, when taking out cover, take a long enough period of cover that you may need. Most GAP Insurance policies are not renewable or extendable.
When you sell or dispose of the vehicle
GAP Insurance is in your name and can only cover you for the vehicle listed on your policy. When you sell or dispose of the vehicle, then you no longer have any financial interest in that vehicle. Therefore, the GAP Insurance is no longer valid.
Remember if you do get a replacement vehicle you should have some options left for the remainder of your GAP Insurance cover. You should be able to either:
Cancel the remainder of the cover and ask for a refund

In cases where you sell your vehicle, you might be eligible to cancel the remaining GAP Insurance coverage and request a refund. However, please note that this option may come with certain fees, as stipulated in the terms of your GAP Insurance policy.

Transfer the remainder of the cover to your replacement vehicle

If you acquire a replacement vehicle, some GAP Insurance policies allow you to transfer the remaining coverage to the new vehicle. This can be a convenient option to maintain protection against financial loss on your new vehicle.
Fees may be charged for either option, subject to the terms of your GAP Insurance policy.
When you make a successful claim on your GAP Insurance
GAP Insurance is a 'one-time' claim type of insurance. If the vehicle on the cover is written off or stolen, then you can claim a financial loss or shortfall.

Once the vehicle has been declared a total loss, and you have made a GAP claim for the loss, then that is the policy spent.
You cannot transfer or cancel the GAP Insurance policy for a refund once you have made a claim on it.
Should you then buy a replacement vehicle you will need to buy a new GAP Insurance policy to cover that vehicle.
Why Choosing the Right GAP Insurance Matters
It's essential to choose the right GAP Insurance policy and length of time, that suits your needs. Here at GAPInsurance123, we understand the significance of protecting your investment. Our flexible coverage periods, ranging from one to five years, ensure that you have the right level of protection for your vehicle.
Furthermore, by understanding when your GAP Insurance automatically ends, you can plan for the future. Be it the natural expiry date, selling or disposing of your vehicle, or making a successful claim, being informed empowers you to make the right decisions.
In conclusion, GAP Insurance provides valuable coverage, but it's important to be aware of the circumstances under which it may automatically end. Whether you're safeguarding your current vehicle or considering a replacement, understanding these factors ensures you make the most of your GAP Insurance coverage.
Remember, your financial security is our priority, and at GAPInsurance123, we're here to assist you every step of the way. Our team is dedicated to providing expert advice and reliable coverage, ensuring you're protected when you need it most.
By choosing GAPInsurance123, you're not just getting insurance; you're getting peace of mind backed by our experience in the GAP Insurance world.
Published 14/10/23, written by Mark Griffiths