The Top 10 Reasons to Buy GAP Insurance Online in the UK
Introduction
GAP Insurance is an important investment for anyone who owns a vehicle. While motor dealers and leasing companies offer GAP Insurance, purchasing it online has advantages.
Here are the top 10 reasons why you should consider buying GAP Insurance online in the UK.
Competitive Pricing
The first thing you may notice when comparing the GAP Insurance quote from your motor dealer, finance or leasing company to an online provider is the difference in cost.
Premium prices can be hugely different.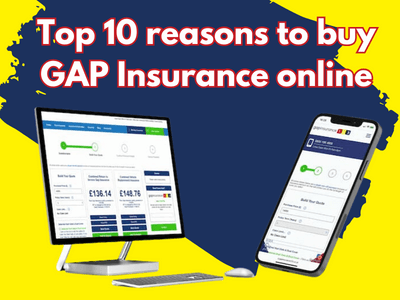 Online providers often offer more competitive rates than motor dealers or leasing companies. With lower overhead costs, online providers can pass the savings on to you.
These differences can be explained through several factors:
The different rates of Insurance Premium Tax - (you pay the higher rate of IPT at the motor dealer (20%) as opposed to the standard rate with an online provider (12%).

Different business models - motor dealers are restricted to whom they can sell GAP Insurance. They can only sell policies to someone they sell a car to. Online GAP Insurance providers can sell to anyone. Therefore, online providers work much more like an insurance broker, making a larger number of sales at lower commission rates.
Convenience
Buying GAP Insurance online allows you to shop from the comfort of your home, your break at work or even from the dealership. You can compare different policies, read reviews, and make informed decisions without pressure.
Buying a policy from the motor dealer may only offer you a limited ability to ask questions. You are unlikely to find any reviews or can compare products.
Transparency
Online platforms provide all the necessary information, including terms and conditions, up front. This transparency helps you make an informed decision and avoids any hidden charges.
Online websites offer all kinds of information, questions and answers to help you understand precisely what you are getting.
Wider Range of Options
Online providers offer different types of GAP Insurance policies, catering to different needs and budgets. This range of options is often unavailable when purchasing from a motor dealer or leasing company.
Motor dealers often have a 'one size fits all' option for GAP Insurance only. GAP Insurance is a secondary sale for the motor dealer, always on the back of the sale of the motor vehicle.
Online providers can specialise in GAP Insurance only. They may also have a range of Guaranteed Asset Protection (the full name for GAP Insurance) products that you can choose from. For example, Vehicle Replacement GAP Insurance may be better than the standard Return to Invoice GAP Insurance.
Motor dealers rarely offer Vehicle Replacement GAP cover. Online providers will provide you with the choice of Vehicle Replacement or Return to Invoice GAP cover. You can choose which you feel is best to suit your needs.
You can also access the rarer types of GAP Insurance like finance GAP Insurance, Negative equity GAP Insurance and Agreed Value GAP Insurance coverage through online providers.
Customisation
Many online providers allow you to customise your policy according to your specific needs, which is rarely possible when buying from a car dealership.
For example, motor dealers may only have a three-year option for GAP Insurance cover. This may be the case even with a four or 5-year finance agreement.
Online providers can offer a four or five-year cover to match up with your finance agreement or intention of ownership.
If you buy a brand-new car, you may have a replacement cover with your motor insurance company in the first year. This is known as new car replacement or 'new for old' replacement.
If this is the case, then having GAP Insurance running alongside your car insurance may not be what you want. Some online providers, like GAPInsurance123, allow you to defer your GAP Insurance's start date until the end of the first year of your ownership.
Even where you lease a vehicle, you may think that the product offers may not be too different. You should expect to find a fairly standard Lease GAP Insurance (also known as Contract Hire GAP Insurance) policy from both online providers and the motor dealer. However, the additional options from online providers can make a huge difference.
For example, the optional deposit protection available with most online providers can protect the initial rental deposit payment you make on your lease. This means you can recover this initial rental deposit payment to use to secure your replacement vehicle.
Quick and Easy Process
The online process is usually straightforward and quick. Most providers offer instant quotes and allow you to purchase the policy within minutes.
Getting a GAP Insurance quote and setting up the policy can take less than 10 minutes online with GAPInsurance123.
It is a simple process that immediately makes your documents available online.
The process of generating your paperwork at the motor dealer may be more time-consuming.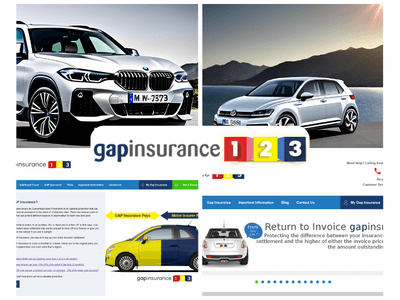 24/7 Availability
Unlike motor dealers or leasing companies, online platforms are available 24/7, allowing you to purchase GAP Insurance anytime convenient.
If you make your mind up at 9 p.m. and the dealer is shut, your online provider can help you get immediate cover in minutes.
Expert Advice
Many online providers offer telephone support and expert advice to help you choose the right policy. This level of customer service is often unmatched by motor dealers.
Whilst motor dealers will be qualified to talk to you about GAP cover, their experience may be limited. Remember, GAP Insurance is a secondary sale to a motor dealer; the car must come first.
Online providers specialise in GAP Insurance cover and options.
Secure Payments
Online providers use secure payment gateways to ensure your financial information is safe. This adds an extra layer of security to your purchase. An online purchase is secure if you want to get GAP Insurance.
Like buying your comprehensive cover from a car insurance provider, the process is easy and secure.
Easy Policy Management
Once you buy GAP Insurance coverage, managing your GAP Insurance policy is accessible online. There is no need to file away paper copies of your documents when you can access them anytime online.
Online access is simple and easy if you need to access your documents in a hurry, like when you need to make a GAP Insurance claim.
FAQs
Can you get GAP insurance without a dealership?
Yes. Online providers generally offer lower premium prices than the motor dealers for equivalent GAP Insurance products. However, cheap GAP Insurance does not mean it is less comprehensive than the dealer GAP Insurance.
As has been highlighted by the likes of the Martin Lewis GAP Insurance report, motor dealer GAP products are just comparatively expensive.
Can you take GAP insurance out at any time?
No, you must take most GAP Insurance products within a set period from buying the vehicle.
This can provide a further advantage for online providers as motor dealers may be restricted to a 30-day window to provide cover from the vehicle purchase.
Depending on the policy terms and provider, online providers can be 180 days or even a full 365 days.

What is the best GAP insurance?
This can be a question when more than one type of GAP Insurance is available. For example, with a brand new car, you could have the option of Return to Invoice GAP (to cover back to the price you originally paid for the car) or Vehicle Replacement GAP (to provide cover for the cost of a brand new replacement vehicle).
The choice, ultimately, is for you to make. However, it may not be a choice that a motor dealer can offer. They may promote Return to Invoice as your best GAP Insurance option. However, it is also probably the only type of GAP Insurance they can provide.
Online providers can generally offer you both. They can explain the pros and cons of both Return to Invoice and Vehicle Replacement GAP and leave the choice to you to make.
Can I pay GAP insurance monthly?
Yes. Online providers may offer a range of monthly arrangements for you. With GAPInsurance123, we can offer PayPal 'Pay in 3' with no interest added. We also provide access to PayPal Credit with agreements made over 12 months via your PayPal account.
We also have options for a premium funding agreement via a company like Premium Credit PLC.
A car dealer may also offer monthly payment options, but you should be wary if they add your GAP Insurance to a finance agreement. This can add a significant interest cost to the already costly GAP Insurance product.
Conclusion
Buying GAP Insurance online offers numerous advantages over purchasing it from a motor dealer or leasing company. The benefits of buying Guaranteed Asset Protection are evident, from competitive pricing and convenience to transparency and customisation. Make an informed decision and choose the best GAP Insurance policy by shopping online.
Published 18/9/23, written by Mark Griffiths