The Society of Motor Manufacturers and Traders (SMMT) has released figures showing that car production in the UK slumped by 20.1% in January 2022, compared to the same month last year. This is the worst start to a year since 2009.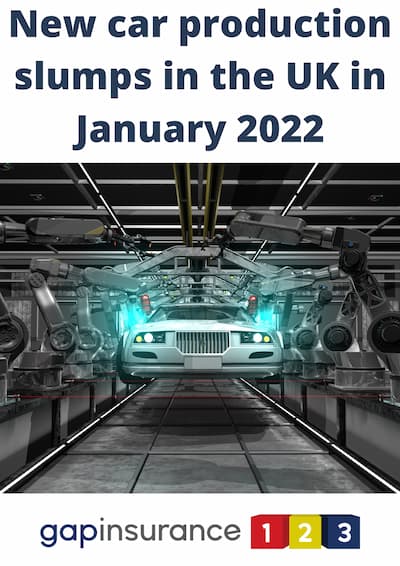 68,790 units were built in January 2020, down from 86,052 in January 2021. This is largely due to the fact that many manufacturers have prolonged shutdowns and stoppages to deal with the impact of Brexit, as well as the pandemic.
January 2022 was a pivotal month for the industry, as several elements came together to drive yearly production down even more. The continuing worldwide semiconductor scarcity, only amplified by the Honda Swindon plant's closing in the summer of 2021. The final factor highlighted is the number of model changes with the implementation of the variants slowing production still further.
Production of Electric Vehicles buck the trend
On a more positive note, the production of battery electric vehicles (BEVs) increased by 37.6% to 6,326 units in January 2022. This shows a shift towards EV production such that just over 9% cars made in the UK are full battery electric vehicles.
When the volume of new plug-in hybrids (PHEV) and hybrids, electric vehicles made up just over 27% of output, an increase from 25.4%.
The future outlook for EV production remains positive as a number of manufacturers have confirmed they intend to produce electric cars in the UK moving forward.
Domestic and export new car volumes both hit
Production for both the UK market and export overseas were hit in the latest figures.
Manufacturing for the domestic market was down by 30.8% year-on-year, while exports slumped by 17.5%. This saw the share of cars exported increase to over 80%.
The EU remained the top destination for new cars produced in the UK, with nearly 60% heading to the continent. China accounted for 10.4% and the USA next with 10%.
Overall the continued slump in new car production comes as no surprise. The global semiconductor chip shortage shows no sign of being resolved anytime soon. Given the evolving conflict in the Ukraine and accounting for increasing transportation and production costs, there seems little positive news. However, the growing market for electric vehicles could see UK new car production boosted better than many markets.
Quite how soon we may expect production figures back to those seen in January 2017 is anyone's guess. It may be a long road back but there are some reasons for optimism.