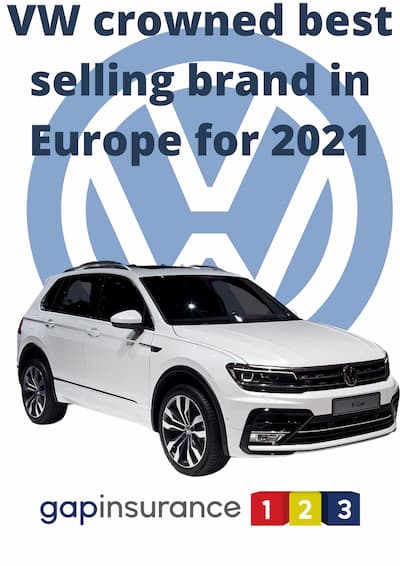 Volkswagen was the best-selling brand in Europe for 2021. Figures provided by the European Automobile Manufacturers Association (ACEA) have confirmed the result.
This is a significant achievement, as it demonstrates the company's ability to produce quality vehicles that appeal to consumers across the continent. The German brand ended the year above its main rivals, Toyota and Peugeot.
Volkswagen was clear by some distance in the top spot, having sold just under 1.1 million new cars last year in Europe in 2021. Next came French giants Peugeot, with 649,514 new car sales.
Toyota saw a much-improved performance in 2021. It sold 615,142 new cars, showing just over 9% growth from the previous year. This result also saw Toyota rise from 8th to 3rd in the manufacturers' table.
2021, despite the difficult landscape for motor manufacturers, has been impressive for Toyota. The Japanese manufacturer also took the top spot for new car sales in the USA. This is the first time since 1931 that any manufacturer has beaten General Motors in the US market.
Other big movers include the Hyundai group (Kia and Hyundai brands), which saw over a 20% increase in sales in 2021, with over 800,000 units sold, and a 10th place finish in the manufacturers league.
It was not such a fruitful period for Ford. They saw close to a 20% drop in sales. This was largely due to factory closures due to the pandemic. The usually popular Fiesta supermini was particularly impacted. Ford will hope for a great improvement in 2022.
Other big losers included Alfa Romeo who saw a 27.8% reduction year on year. Mitsubishi announced they were leaving the European market in 2020 and therefore saw a large drop in sales.
Car manufacturers have had to work within tough Covid rules, a shortage of semiconductor chips for manufacture, and increases transportation costs in 2021. For sure it has been one of the most challenging years for the industry as a whole.
As the Covid pandemic evolves, and chip supply improves, the landscape for all manufacturers will hopefully improve in 2022.