The 1st September 2023. Apart from being the 244th day of the year, it also heralds an important day in the motoring world in the UK. It marks the day that the first 73 new registration plates can be put on a brand-new vehicle leaving a showroom.
Every vehicle that rolls out on a UK road has a registration plate issued to it when it is new. But what does it all mean, and what is all the fuss about?
What Are 73 Plate Registration Plates?
So, what's the deal with these 73-plate registration plates? Simply put, they're the newest series of vehicle identification plates in the UK. But they're not just any plates; they signify the year and the period of the car's registration.
It's like a birth certificate for your car, telling anyone just how old your vehicle is.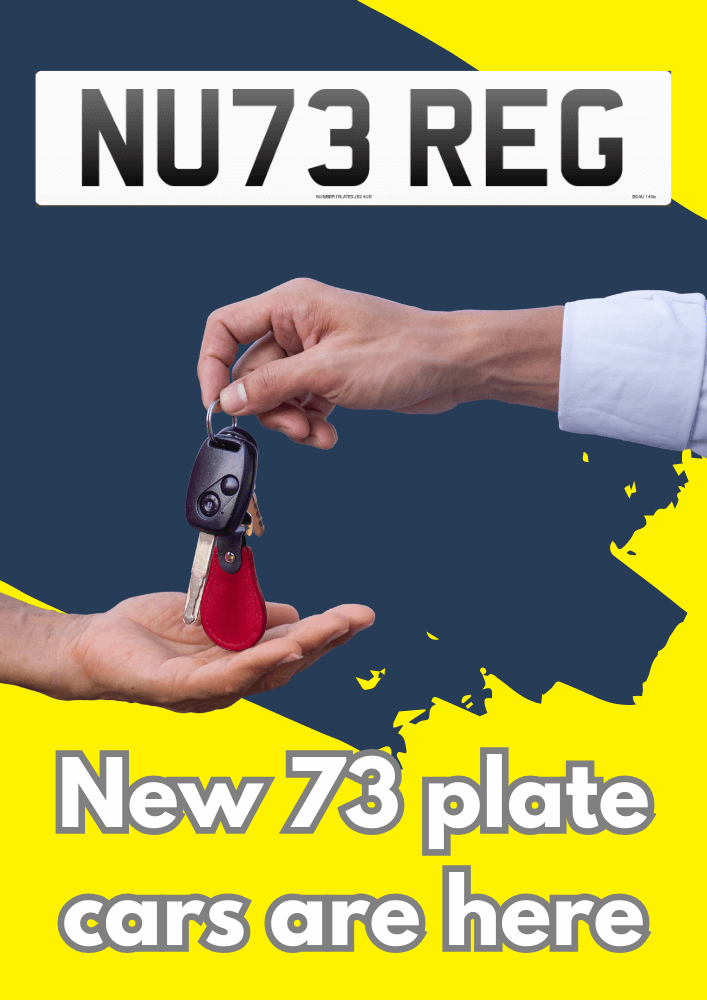 Why the Change?
You might be wondering, "Why another change? Weren't the old plates just fine?" Well, the government likes to keep things fresh and organised. These new plates help in easier identification and add a layer of security against vehicle-related fraud. It's not just a cosmetic change; it's a functional one too.
How to Get One
Simple….buy a new vehicle between September 1st and the end of February 2024. Your vehicle must be registered as new between those dates. If it is, then it will be adorned with a shiny new 73 registration plate when you pick it up from the showroom.
So what does having a 73 plate on your car do for you?
What is the fuss about a 73 plate? Well, it tells people you have a brand-new vehicle, which comes with a bit of kudos for many.
It has to be said, however, that the desire to have a brand new car may have diminished somewhat as perhaps the new registration plate system is not as obvious as it once was. Until September 2001, the new registration plate was signified by a letter at the start of the plate, not a combination of two numbers in the middle.
New registration day also happened on one date each year, 1st August. Then in 1999, it all changed to two periods a year; March until the end of August and September to the end of the following February.
When the plate change was once a year, you used to see people picking their new vehicles up at midnight on the 1st of August (it would be illegal to drive them on the UK roads before that time).
Over the last few decades, that desire has left the UK public. At the GAPInsurance123 offices, we have certainly seen the 1st of September less busy with people buying GAP Insurance than it used to be.
Do you still get excited at the thought of a new car, or are you not bothered at all?
FAQs
Is it mandatory to switch to a 73 plate for a new car?
No, it's optional. You can opt to put a private plate on to the vehicle instead, should you own one.
Can I put a 73 plate on an older car?
No. You can only put a 73 plate on a car registered after the 1st of September, 2023. It is not allowed to effectively make a car look newer than it is by putting a 73 plate on a car registered before that date.
Published 2/9/23, written by Mark Griffiths